Live Q and A with Tom Paladino
Thursday, April 2nd at 9:00pm Eastern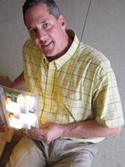 Will scalar energy healing be beneficial to my condition? I receive email with this question every day. The first thing you must do is define my condition. How did it originate? Is there a pathogenic influence? Does my condition stem from a viral infection? Bacterial infection? Amoebic infection? Fungi infection? Have you been diagnosed by a medical professional or has your condition been cultured at a lab? Tom Paladino's scalar energy instrument does not diagnose. Tom created 3 protocols that are standard for everyone.
The 3 protocols are:
Add to Calendar
UTC
Live Q and A with Tom Paladino
Thursday, April 2nd at 9:00pm Eastern
Will scalar energy healing be beneficial to my condition? I receive email with this question every day. The first thing you must do is define my condition. How did it originate? Is there a pathogenic influence? Does my condition stem from a viral infection? Bacterial infection? Amoebic infection? Fungi infection? Have you been diagnosed by a medical professional or has your condition been cultured at a lab? Tom Paladino's scalar energy instrument does not diagnose. Tom created 3 protocols that are standard for everyone. The 3 protocols are:
https://events.iteleseminar.com/index.php?eventID=67879317