Live Q and A with Tom Paladino
Thursday, February 5th at 9:00pm Eastern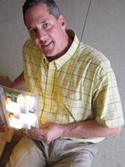 In consummate fashion, the scalar energy pathogenic cleanse disassembles and eradicates all of the aforementioned viruses thus serving as a preventative measure against many human cancers. In summation, as a primal force in nature, scalar energy is capable of disassembling and eradicating viruses from the human body thereby preventing
some types of human cancer.
Add to Calendar
UTC
Live Q and A with Tom Paladino
Thursday, February 5th at 9:00pm Eastern
In consummate fashion, the scalar energy pathogenic cleanse disassembles and eradicates all of the aforementioned viruses thus serving as a preventative measure against many human cancers. In summation, as a primal force in nature, scalar energy is capable of disassembling and eradicating viruses from the human body thereby preventing some types of human cancer.
https://events.iteleseminar.com/index.php?eventID=65334180