Tom Paladino's Live Q & A
Thursday, October 30th at 9:00pm Eastern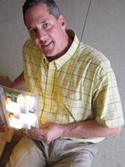 Scalar energy is also known as prana, Qi, radiant energy, zero point energy, orgone, eloptic energy. After years of experimentation and modification, I have developed a technique using scalar energy that will transmute pathogens quickly and painlessly. This technique facilitates the use of photographs of people who desire to have pathogens transmuted in their bodies.
SelfHealGo.com
Add to Calendar
UTC
Tom Paladino's Live Q & A
Thursday, October 30th at 9:00pm Eastern
Scalar energy is also known as prana, Qi, radiant energy, zero point energy, orgone, eloptic energy. After years of experimentation and modification, I have developed a technique using scalar energy that will transmute pathogens quickly and painlessly. This technique facilitates the use of photographs of people who desire to have pathogens transmuted in their bodies. SelfHealGo.com
https://events.iteleseminar.com/index.php?eventID=61661595