Reigniting Intimacy After Major Illness
With Rabbi Ed Weinsberg, EdD, DD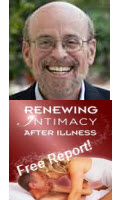 Welcome to the event page. This page is the page you should return to when the event starts so you can listen in. Please click the "print out this page" link as a reminder for you to return to this page at the correct day and time. See you then!
Download your free report-
RENEWING INTIMACY AFTER ILLNESS
here
Add to Calendar
UTC
Reigniting Intimacy After Major Illness
With Rabbi Ed Weinsberg, EdD, DD
Welcome to the event page. This page is the page you should return to when the event starts so you can listen in. Please click the "print out this page" link as a reminder for you to return to this page at the correct day and time. See you then!

Download your free report-
RENEWING INTIMACY AFTER ILLNESS
here
https://events.iteleseminar.com/index.php?eventID=27966045