Welcome to the Webcast Replay of Class 3!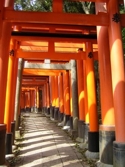 Welcome to the replay! Subject: Ninja no Taijutsu (pt 1) You can listen in here or download the mp3. I suggest that you download and burn the mp3 to a CD right now so that you can listen to it in your car, or... at the very least - archive it so you won't lose it in a computer system crash, etc. You will receive an email closer to class time, about the log-in for next week's session. Also, if you have any questions for me about this class or for future highlighting during the program, feel free to send an email to jmmiller@warrior-concepts-online.com or use the box below left. (Please remember that the email address above is for my private Inner Circle members only. It is not to be used for anything other than training questions, and under no circumstances, given out to anyone else!) See you in next week's class! To Your Attainment of Mastery! Shidoshi Miller
Add to Calendar
UTC
Welcome to the Webcast Replay of Class 3!
Welcome to the replay! Subject: Ninja no Taijutsu (pt 1) You can listen in here or download the mp3. I suggest that you download and burn the mp3 to a CD right now so that you can listen to it in your car, or... at the very least - archive it so you won't lose it in a computer system crash, etc. You will receive an email closer to class time, about the log-in for next week's session. Also, if you have any questions for me about this class or for future highlighting during the program, feel free to send an email to jmmiller@warrior-concepts-online.com or use the box below left. (Please remember that the email address above is for my private Inner Circle members only. It is not to be used for anything other than training questions, and under no circumstances, given out to anyone else!) See you in next week's class! To Your Attainment of Mastery! Shidoshi Miller
https://events.iteleseminar.com/index.php?eventID=11601417