Webcast Replay "Ann Thomas & Khama Anku"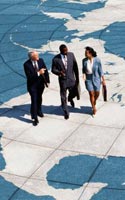 Welcome to the Replay of Ann Thomas on, "Wrestling with Your Demons: Strategies for Managing Your Inner Critic & Mastering Your Mind" Description: One of the four cornerstones of Radical Self-Love is mastering your mind to overcome your harsh inner critic. Your inner critic fills your mind with negative thoughts about yourself. It tells you things like, â??Who do you think you are?â?? â??Youâ??re not good enough.â?? â??Youâ??re not smart enough.â?? If you allow it, these messages can penetrate to the depths of your being, become permanent residents of your mind, and derail your success. Learn a few tools to help you silence your inner critic, understand the difference between your critic and your intuition, and how to master your mind, so that you can achieve unshakeable happiness and success. Ann's Website: www.EvolvingGoddess.com Love, Khama Life Coach, Author & Speaker www.SpiritualPhysique.com (888) 339-8450
UTC
Webcast Replay "Ann Thomas & Khama Anku"
Welcome to the Replay of Ann Thomas on, "Wrestling with Your Demons: Strategies for Managing Your Inner Critic & Mastering Your Mind" Description: One of the four cornerstones of Radical Self-Love is mastering your mind to overcome your harsh inner critic. Your inner critic fills your mind with negative thoughts about yourself. It tells you things like, â??Who do you think you are?â?? â??Youâ??re not good enough.â?? â??Youâ??re not smart enough.â?? If you allow it, these messages can penetrate to the depths of your being, become permanent residents of your mind, and derail your success. Learn a few tools to help you silence your inner critic, understand the difference between your critic and your intuition, and how to master your mind, so that you can achieve unshakeable happiness and success. Ann's Website: www.EvolvingGoddess.com Love, Khama Life Coach, Author & Speaker www.SpiritualPhysique.com (888) 339-8450
https://events.iteleseminar.com/index.php?eventID=28824105